WE SPECIALIZE IN MANY TYPES OF CONCRETE FLATWORK
Call us for an estimate!
207 592-5171

---
---
Concrete Repair in Maine

Concrete repair has become a big part of our business over the last decade. Exterior concrete in Maine takes a lot of abuse from the dramatic changes in our weather from summer to winter as well as the de-icing chemicals used to melt ice and snow.

We specialize in concrete floor repair, concrete sidewalk repair, driveway repair, porch repair, pool deck repair, stair repair and concrete crack repair. 

We only use what we feel are some of the best concrete and epoxy repair products on the market.  Having been trained to use Elite Crete's epoxy and concrete overlay repair materials, we can repair just about any type of damaged or spalled concrete.

Repairing damaged concrete
This is a set of concrete stairs at C.M.P. in Augusta, Me. that were in badly need of repair.  Not only were they old and deteriorating, they were accidentally damaged by a jack hammer when the contractor thought they were supposed to be replaced. 
We were called to see if we could repair the stairs so they wouldn't have to be removed and replaced with new ones.

Here's what the stairs looked like after we repaired all the damaged concrete, applied a thin concrete overlay, and two coats of concrete sealer.  Repairing these concrete stairs cost much less money than replacing them would have.

Repairing cracks in concrete floors
We also do a lot of epoxy concrete crack repair like you see above.  After we repair the crack we can overlay the entire concrete floor to give it a new look.
This new "face" can be tinted with color or stained, then sealed to give you a very decorative finished concrete floor.
This kind of concrete repair can be done to garage floors, basement floors, concrete patios, sidewalks and pool decks.

Repaired cracks and resurfaced concrete patio in Sidney, Me.
Above is a concrete porch repair we did in Belgrade, Me.  The existing concrete was cracked and spalled so we repaired the cracks, used a concrete grinder to remove any loose concrete and applied a concrete overlay to the entire surface giving in a just like new look again.

Repaired concrete at the garage door openings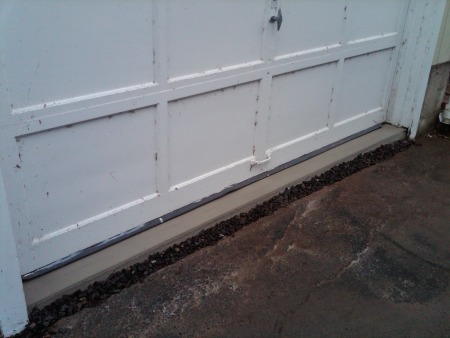 This is a concrete floor that was heavily damaged right where the garage door sits on the floor.  We removed all the loose and cracked concrete then mixed and re-poured the concrete repair material.  We beveled the area outwards so water wouldn't run back under the door.

Watch how we repair this salt damaged concrete patio in Gorham, Me.
If you have damaged, spalled or deteriorating concrete in need of repair, give us a call.  We serve most of central and southern Maine.  We'll come take and give you an estimate to repair or overlay the concrete.

Check out our trench drain installation and repair in Brunswick, Me.