WE SPECIALIZE IN MANY TYPES OF CONCRETE FLATWORK
Call us for an estimate!
207 592-5171

---
---
Trench Drain Installation
Brunswick, Me.

This trench drain installation in Brunswick, Me. was for Goodwin's Chevrolet.

Their 50 year old trench drain was in need of an upgrade. Here's how we replaced the old trench drain with a new one.

This is what their trench drain looked like. The concrete was deteriorating around the edges and on the bottom of the drain. It was impossible to keep it clean because of all the uneven and rough concrete.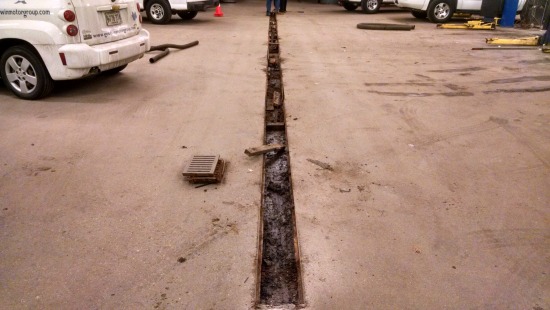 We sawed and jack-hammered out all the rotten concrete. It took us half the day to clean out the bad concrete and clean up the mess. Once the mess was cleaned up, we started rebuilding the base of the trench.
To do this, we mixed a 5000 psi grout mixture and troweled it in the bottom. We wet set the 3 foot sections of trench drain into the grout mix and connected all 50 feet of drain together at the right height.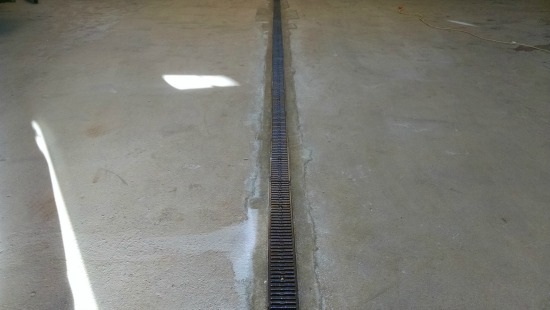 Once the trench drain was set in place, we filled up along both sides of the drain with a 5000 psi peastone concrete mix. We doweled rebar into the old floor every 2 feet to tie the old concrete to the new concrete.
We troweled the concrete smooth to meet the existing concrete floor and that was it. Goodwin's Chevrolet had a brand new drain system installed in 1 day.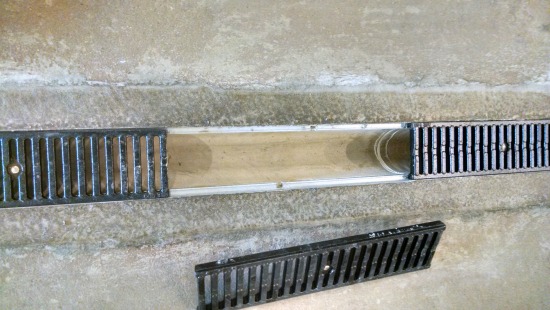 The type of trench drain we used was an ACO Drain from their Klassik Drain line of drains. This type of drain is made from a rugged, lightweight polyester resin binder reinforced with mineral aggregates and fibermesh.
The 3 foot sections of drain have a pitch built into them so all you have to do is set them level and the water runs to the outlet section.

| | |
| --- | --- |
| This is what a section of the drain looks like. The interior of the drain is very smooth so the water runs off very good. The grate on top is made of cast iron. It's very strong and clips in place for easy removal, just in case you have to clean inside of it. | |
As you can see, this trench drain is a huge improvement compared to what they had before.

This is the main area for Goodwin Chev. service. There are many cars and trucks coming in and out all day long. This floor gets a lot of water on it and needed a good drain system to collect the water and dispose of it.

If you need a trench drain or any type of concrete repair in the Brunswick, Topsham or Bath, Me. area then Day's Concrete Floors, Inc. is your concrete contractor for this type of work.

Give us a call or request a quote and Mike Day will meet with you and talk about the best options for your project.

Day's Concrete Floors, Inc. is Maine's concrete contractor for fixing and repairing concrete, pouring concrete floors and slabs, staining or stamping concrete and installing epoxy paint floors.