WE SPECIALIZE IN MANY TYPES OF CONCRETE FLATWORK
Click HERE for an estimate!
---
---
Concrete Floor Stain
Concrete floor stain is a great way to add color and a finished look to the plain gray concrete that is there now. An acid stained concrete floor will create a very unique mottled look to the concrete, a look that is unlike any other flooring material.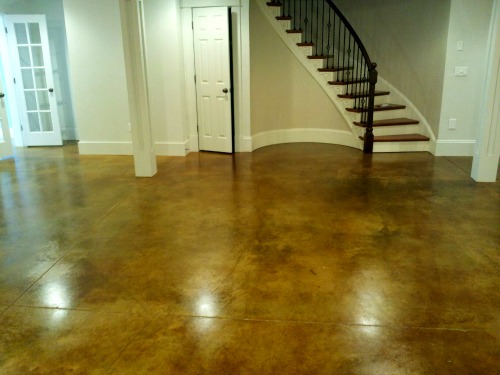 Acid concrete stain works by penetrating into the surface of concrete and reacting chemically with the hydrated lime (calcium hydroxide) in the concrete. The acid in the stain etches the surface of the floor and allows the metallic salts to penetrate. After the stain reacts it becomes a permanent part of the concrete that doesn't fade or peel off.
Concrete stains are translucent and the color will vary depending on the condition of the concrete. Every concrete slab will absorb the stain differently. That's what makes it unique. The different color variations give the concrete a distinct look creating amazing color variations that give it character.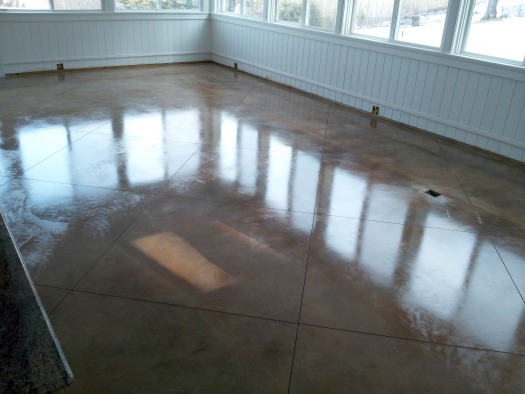 This project in Camden, Me. started out as a plain gray concrete floor. We scored a 4' diamond pattern into the concrete then stained the concrete with a tan and brown floor stain creating a nice decorative effect. To give the floor the shine you see, we applied 2 coats of a high gloss concrete sealer then 3 coats of floor wax.
Here's some more great information about concrete floor stain. You can also take a look at my color chart for staining concrete floors.

The cost to stain a concrete floor is relatively inexpensive compared to other finished flooring materials.  Using the concrete floor as the "finished" surface has some benefits as well. One is the ability to create a very unique looking floor using multiple stains and some scored patterns unlike anything you'd be able to buy at a flooring store. Another benefit is how simple it is to keep a stained concrete floor clean. These floors are very easy to clean and maintain.

If you would like an estimate to stain your concrete floor or would like some more information, just request an estimate or give me a call.  I would be happy to answer any questions you have about concrete staining.
Check out the concrete floor we stained in Bar Harbor, Me.