WE SPECIALIZE IN MANY TYPES OF CONCRETE FLATWORK
Click HERE for an estimate!
---
---
Decorative Concrete Overlays
and Concrete Resurfacing
A concrete overlay is a great way to repair and resurface old, worn, cracked and spalled concrete floors, patios and pool decks.  Most of the time repairing and resurfacing the concrete will save you a lot of money compared to removing it and starting over.

Concrete pool deck resurfaced in Cumberland, Me.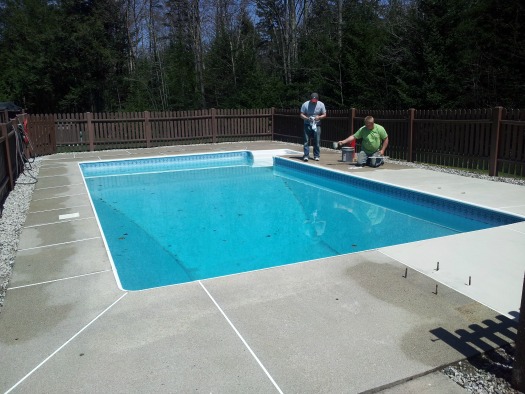 Here we are in Cumberland, Me. starting to overlay or resurface this concrete pool deck. The concrete was very worn and stained. The edges and expansion joints had some spalling and pop-outs from many years of good use.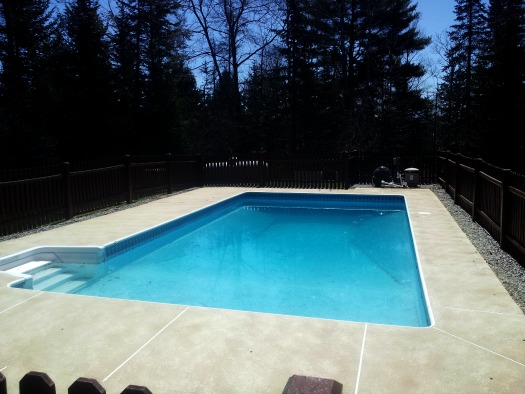 Here's the concrete pool deck after it has been resurfaced. We used a high strength polymer modified concrete overlay product that can be applied very thin.
We resurfaced the concrete with a beige color (yes, it can be colored) then we used a hopper gun and applied more overlay material in a chocolate color giving the deck a two tone look.
Once the material was dry, we applied two coats of concrete sealer and the job was done. The cost to overlay this concrete deck was a fraction of what it would have cost to replace it with a new one.

Stamped concrete overlay done to the floors at the Sugarloaf Mountain Resort Hotel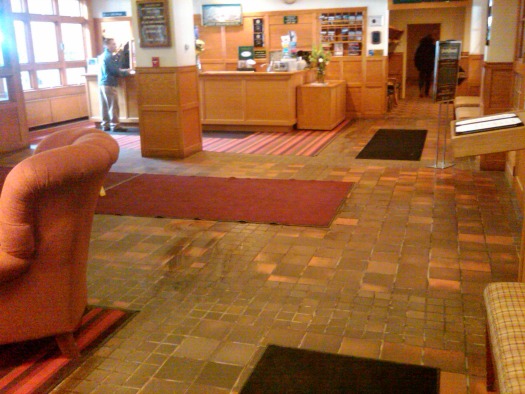 This was the old floor in the main lobby of the Sugarloaf Mountain Resort in Carrabassett Valley, Me. We were hired to remove the old tile and carpet flooring from the concrete floor underneath it and install a thin 1/4 inch stamped concrete overlay.
A decorative polymer overlay can be made to look just like stamped concrete but can be done over existing concrete while only raising the height a quarter of an inch.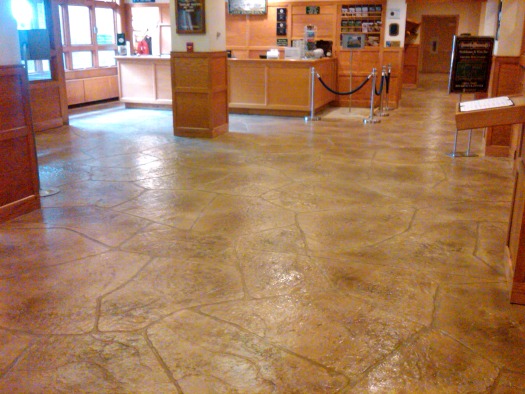 Here's the floor after we were done. We stamped the overlay material with a stone texture mat then carved the grout lines by hand to make the floor look like very large fieldstones.  We stained the floor with beige, chocolate and charcoal antiquing stain then sealed it with an epoxy concrete sealer.  This type of decorative overlay can be done to any interior, exterior, large or small concrete floor, patio, driveway or walkway.

Resurfacing a concrete patio in Waterville, Me.
| | |
| --- | --- |
| This is a small concrete patio in Oakland, Me. that had some cracks, staining and looked very old & worn. | We repaired the cracks in the concrete then resurfaced the patio with our concrete resurfacing material to make it look like new again. |
Watch how I install this concrete patio make-over in Monmouth, Me.
Watch us resurface a concrete patio by a pool in China, Me.
If your concrete is new or old, worn and cracked, spalled or chipped and you would like to give it a decorative look or just to look like new again, give us a call or request an estimate for a concrete overlay today. We service most of central and southern Maine.