WE SPECIALIZE IN MANY TYPES OF CONCRETE FLATWORK
Click HERE for an estimate!
---
---
Reflector enhancer epoxy floor in Norridgewalk, Me
This is a reflector enhancer epoxy floor we installed in a house in Norridgewalk, Me. The total square footage of this house was 1200 sf.
This was a new house built on a concrete slab. The owner chose reflector enhancer epoxy flooring because he wanted a floor that was decorative, unique, durable, and easy to clean.
The concreter slab was in good condition with only a few hairline cracks. We ground the concrete to prep for the epoxy, repaired the hairline cracks, and applied our reflector enhancer epoxy, a process that takes multiple coats to complete.

Colors for this floor are Brass and Orange Gold with some veins of Cairo
Above is a picture of the main room in the house. The kitchen, dining room, and living room are all included in this large room. Our reflector enhancer epoxy is seamless, which makes it makes it look great in a large area like this.

Here's the hallway, which connects the garage, a bathroom, and two bedrooms.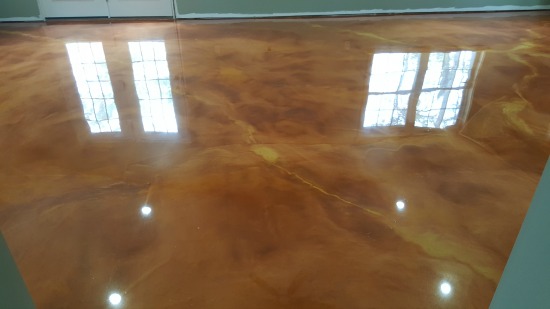 The top-coat we apply can have a gloss finish or a matte finish. The matte finish is achieved by us adding a slip-resistant additive to the coating.

Reflector enhancer epoxy is sometimes referred to as "metallic" epoxy. They both mean the same thing. The pigment, or color, is achieved by adding a metallic powder or a liquid color to our clear 100% solids epoxy.
This kind of epoxy flooring is impossible to duplicate. It is unique to each application because once we apply it to the floor and back roll it, the epoxy continues to move and level itself out. No other type of flooring does this!

Here's a picture of the hallway with the top-coat applied. We added a little slip-resistant additive to the coating which will help keep it from being too slippery when it gets wet. There is a bathroom through one of the doors on the left. It also dulls the sheen a bit and doesn't make it quite so shiny.

If you like this type of epoxy flooring, you can request a quote. To look at some more projects we have done with reflector enhancer epoxy click here.