WE SPECIALIZE IN MANY TYPES OF CONCRETE FLATWORK
Click HERE for an estimate!
---
---
Epoxy Floor Contractor 
in Waterville, Me.
Here's a couple of epoxy floor installations we did in the Waterville, Maine area. 
These were exterior front entry patios into these houses. The concrete was looking a little dirty and was hard to keep clean.
We used our exterior polyurea / polyaspartic flake coatings to seal and protect the concrete patios.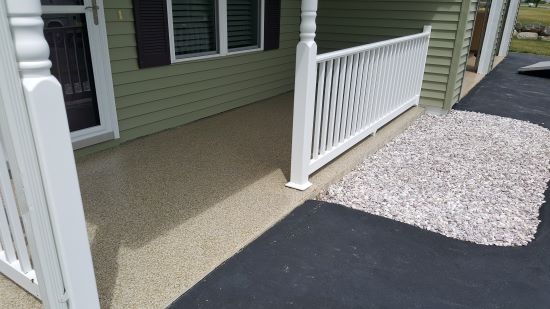 This is the front entry into the house. It was just plain broom finished concrete that looked dirty. 
We cleaned the concrete by grinding it, patched any cracks and applied our decorative flake coating. We coated the garage floor also.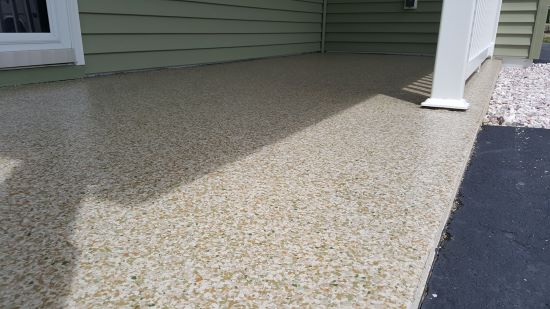 Here's a close up of the flakes, this flake has an olive color, it looked good with that color siding. This type of coating will completely seal and protect the concrete.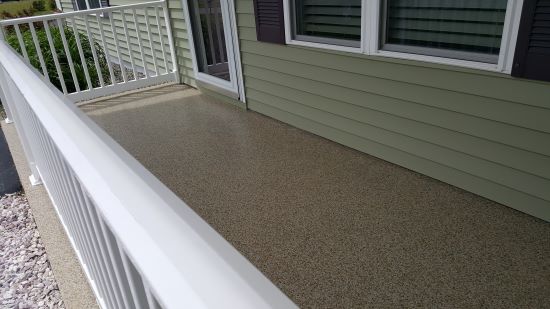 It'll also be easier to keep clean. We have 17 different colors to choose from.
We can do this same kind of epoxy coating to your basement or garage floors as well.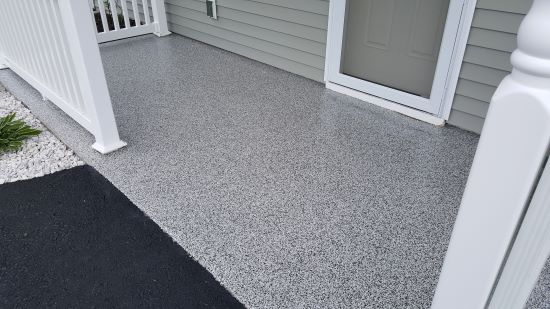 This is another one we did at a nearby neighbor's house. This was our granite colored flake.
If you'd like an estimate for an epoxy coating, we are central and southern Maine's epoxy flooring contractor. 
You can request a quote or give me a call 207 592-5171