WE SPECIALIZE IN MANY TYPES OF CONCRETE FLATWORK
Call us for an estimate!
207 592-5171

---
---
3 Bay Garage Epoxy Floor Installed in Lisbon, Me.
The owner of this 3 bay garage in Lisbon, Me. wanted to make his garage floor look nicer and also make it easier to clean & maintain. 
He chose our decorative chip epoxy floor system which consists of a moisture blocker epoxy, 100% solids colored base coat epoxy, tri-colored decorative chips, and a clear polyaspartic top coat.

What the floor looked like before we started.
The concrete floor was in pretty rough shape when we started. There was a lot of staining from oil being spilled or dripped on the floor. There were a lot of cracks and spalling that needed repair.

We're grinding and cleaning the surface.
The first thing we did was grind the floor to clean it and prepare it for the epoxy coating. 

We're repairing the cracks and pitted areas.
After grinding the concrete we fixed all the cracks and spalled areas with our epoxy repair material. Once the repair material is dry, we grind it smooth and the cracks and pop-outs are gone.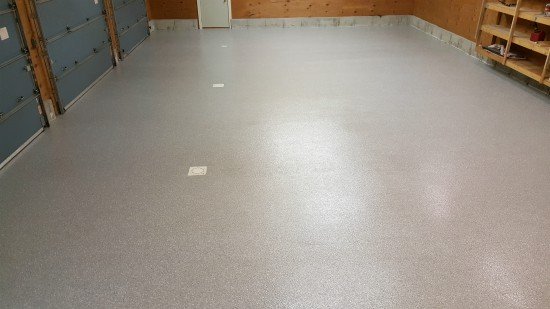 Finished epoxy floor with decorative chips.
After installing the epoxy, decorative chips, and top-coat the result is a beautiful garage floor. 

This is 100% solids epoxy we've been trained to use not the cheap big box brand epoxy.
This garage floor was approximately 60' x 28' and had 3 floor drains. It's now very easy to sweep and keep clean.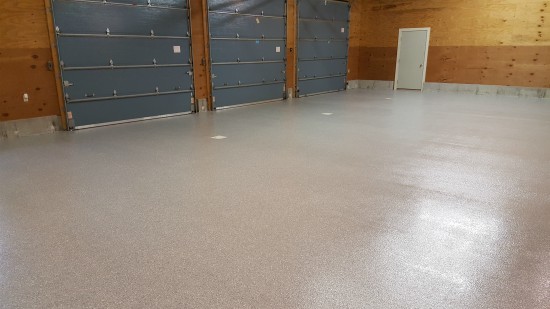 Long lasting, easy to clean protection for your garage floor.
If you'd like a beautiful looking garage floor that's easier to maintain
If your garage floor is cracked, pitted or chipped and want it repaired
If your garage floor is old and dirty and want in looking like new again
If your garage floor is brand new and want to keep it protected
You can request a quote and we can discuss your options!!