WE SPECIALIZE IN MANY TYPES OF CONCRETE FLATWORK
Call us for an estimate!
207 592-5171

---
---
Epoxy Floor for a custom home in Boothbay Harbor, Me.
by Dighton Home Construction
(Boothbay Harbor, Maine)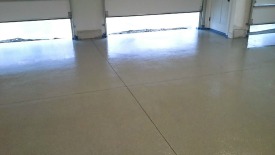 After picture of epoxy chip floor
I was referred to Day's concrete from a trusted contractor we have done business with for over 25 years. We asked them to apply an epoxy finish to a 3 bay garage and a mechanical room on a very short notice. Mike accommodated our schedule and did a top notch job. Very professional from start to finish. Thank you

Bill Dighton. Dighton Home Construction

From Mike Day:
Thanks Bill,

Bill was great to work for, very accommodating to our needs and very helpful getting the two areas clean so we could finish on schedule.

Bill wanted an epoxy painted floor in the garage and mechanical room because they are very durable floors that look great and are easy to keep clean.

We decided on an epoxy floor with the decorative chips broadcast into it. The chips help strengthen the epoxy and give the floor a nice look with some slip resistance.

Bill wanted the floor to kind of blend in with the beautiful stone veneer on the outside of the garage. After doing some samples, he chose a solid color system in the grey family of chips called TABU. I think he was spot on with his choice, the greyish color chips really complemented the colors in the stones.

The house Bill is building looks amazing. To me, it looks like his crew is very experienced and detail oriented. They were in the finishing stages when I was there and the trim work, cabinets, painting, and tile looked fantastic.

If you're looking for someone to build your home in the Boothbay, Me. area I would definitely contact Bill from Dighton Home Construction, he lives in Alna, Me. Tel. 207 882-9803
Join in and write your own page! It's easy to do. How? Simply click here to return to Reviews for Day's Concrete Floors, Inc.