WE SPECIALIZE IN MANY TYPES OF CONCRETE FLATWORK
Click HERE for an estimate!
---
---
Epoxy Floor for a Dog Kennel in Farmington, Me
The Franklin County humane society called us to install a new epoxy floor coating where they took care of their dogs.
As you can see in the picture below, the concrete floor was in very rough shape and was impossible to keep clean and sanitary.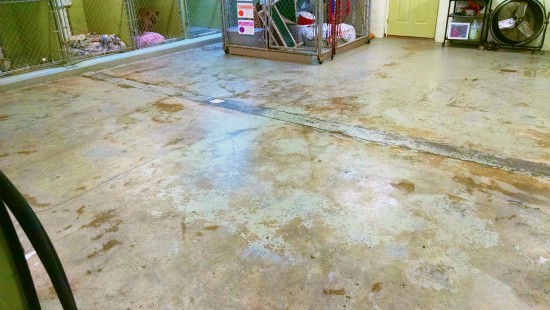 The existing concrete floor had a previous coating on it that was peeling off as well as some cracks and pop-outs that needed to be repaired.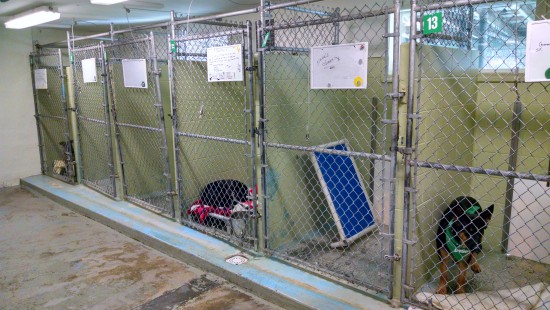 The paint on the walls and floor of the dog stalls couldn't hold up to the foot traffic and claws of the dogs. They needed a floor coating that would aggressively bond to the concrete and hold up to the dogs scratching & clawing at it.

The solution was our 100% solids epoxy with decorative flakes broadcast into it. This epoxy is very strong and adding the flakes to it makes it even more durable.

After grinding off all of the old coating, we repaired the cracks and filled in any pop-outs with our epoxy repair mortar.
This epoxy floor consisted of a primer/moisture blocking coating first, then a colored base coat with the color flakes broadcast into it, then two clear top-coats. So 4 coats of epoxy in total for a very durable, scratch resistant floor that will hold up to a lot of PAW traffic.

The final result was a clean, seamless, sanitary floor that's better for both the employees and the dogs.
If you'd like an epoxy floor like this either request an estimate or give us a call.